​

In January 2017, Hannah Leigh Myers was featured on the cover of the Boulder Weekly for her years of service to KGNU public radio. The special Boulder Weekly edition, "

Celebrating local people who make the world a better place",

includes an article detailing Hannah Leigh's dedication to journalism as a means of societal improvement. Read the article

here
In April of 2013, Hannah Leigh Myers won a student Mark of Excellence Award from the Society of Professional Journalists for in-depth reporting competing against applicants from four states. The awarded five-part series titled "Marijuana in Colorado" looked at heath, monetary issues, youth access, the war on drugs and the details of Amendment 64 just before the bills passage in Colorado. The series aired first on KGNU Independent Radio Boulder/Denver and was also picked up various other radio stations across Colorado.
--- You can listen to "Marijuana In Colorado" as featured on PRX by clicking here
.
Various publications recognized Hannah Leigh's SPJ award with published features.
KGNU Radio Boulder/Denver recognized Hannah Leigh's SPJ award in their annual publication Rare Frequencies.
The Department of Journalism and Mass Communication at the University of Colorado Boulder posted an except about Hannah Leigh's SPJ award in their bi-annual publican Bylines Briefly


In May of 2015, Pacifica Radio Network featured Hannah Leigh's Stories of the River series as one their favorite programs focused environmental protection issues. Their message went out to hundreds of radio stations around the country.



Bylines Briefly: April 2013
"The SPJ's regional award for in-depth radio reporting went to Hannah Leigh Myers ('13) for
"Marijuana in Colorado,"
a five-part series analyzing the proposed legalization of marijuana in the weeks leading up to the statewide vote on Amendment 64, which legalized recreational use of the drug."
---

In 2013 and 2015 Hannah Leigh Myers was selected to take part in Eco-Flight's annual Flight Across America. Each year a few select young people are chosen to tour multiple states in small aircraft as a means of education on environmental issues. Along the way the team makes multiple stops to speak with expert players in the field of environmental conservation. The individuals selected for the trip are then encouraged to publish information gleaned from the experience upon their arrival home. The group is typically made up of college students, however, Hannah Leigh was recommended for the program twice due to her expertise in multimedia production.
---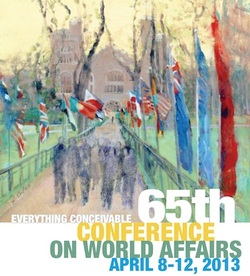 In 2013, while Hannah Leigh was still enrolled at the University of Colorado Boulder, she was given the prestigious opportunity to moderate a live interview as part of the 65th annual Conference World Affairs. This honor is typically reserved for senior experts however, Hannah Leigh's experience in radio and multiple publications on marijuana in Colorado made her the top choice to host a program entitled
Legal Pot: Hemp, Hemp, Hooray!
with guest
Sanho Tree,
a fellow at the Institute for Policy Studies and director of its Drug Policy Project. For a listen click here.
---